In recent years, with the in-depth development of 3D scanning and 3D printing technology, its application in the field of archaeology has gradually deepened, and more and more archaeologists have used this new way to seek new breakthroughs in research work. Next, I will take a look at the classic application cases of 3D printing in cultural relics and archaeology in these years.
3D print paleontological fossils unlock new archaeological techniques
As we all know, the fossil specimens of hundreds of millions of years are very fragile. Even during the research, even if the needles are finely repaired under the microscope, the specimens will be damaged if they are not careful. What is more difficult is that due to technical and other reasons, it is difficult for scientists to conduct in-depth research on the internal structure of fossils. Now the emergence of 3D printing technology allows scientists to have a deep understanding of the interior of the skull, such as the inner ear and middle ear, and how they touch each other, other bone details and so on.
Earlier, scientists at the Australian National University (ANU) used CT scans and 3D printing techniques to study a fossil fish of 400 million years ago. According to reports, this shield fish fossil is very fragile, the thinnest position is less than 0.1 mm, and there is no paper thickness. And through the 3D printed shield fish jaw structure model, the researchers found that a part of the fish fossil jaw structure is similar to a bone in the inner ear of modern humans.
The biggest advantage of 3D printing is that it can produce equal-scale fossil models without damaging the sample, providing accurate simulation objects for archaeological research, and it is cheaper and faster than traditional production. Through the 3D printed fossil model, archaeological researchers can decompose, assemble, and even perform virtual 'anatomy' to visually understand the internal structure of such fossils and explore ancient species information.
3D printing technology helps artifact restoration or reconstruction
3D printing technology is playing a unique technical charm in the restoration or reconstruction of ancient artifacts. Based on the digital concept of 3D printing technology, ancient architectural artifacts can be converted into 3D digital model files for storage, providing data support for future repair or reconstruction. In addition, 3D printing technology is also used by museums to reproduce artifacts that cannot be overturned or unsuitable for overturning, and to repair locally damaged artifacts.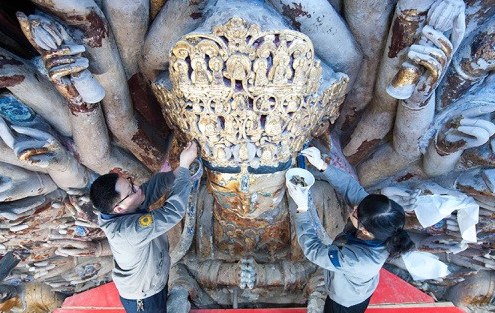 In 2014, Chongqing Dazu Rock Carving Scenic Area has introduced 3D printing technology to repair the world's largest Avalokitesvara image. According to Chen Huili, deputy director of the Dazu Cultural Relics Protection Engineering Center, "The main data is obtained through 3D laser scanning, and the model is printed at a ratio of 1:3 by means of a 3D printer, helping us to scientifically repair the defective parts of the main form, including the tilt of the head. Angle, eye and other attitudes provide reference. Compared with traditional manual mold repair, 3D printed cultural relics provide accurate reference for restoration or reconstruction of cultural relics, and also reduce secondary damage caused by high-frequency touch artifacts. Limiting the artistic value of cultural relics to avoid the obliteration of human historical memory. In the future, with the improvement of 3D printing industry chain, 3D printing and 3D scanning technology will play a greater role in cultural relics protection. 3D printing + cultural relic archaeology education The cultural heritage inheritance 3D printing technology has a strong expressive power in re-enacting historical sites. In the past, students could only imagine the profoundness of the historical sites such as the Great Wall, Terracotta Warriors and Horses through books and networks. Some students have the opportunity to visit museums and historical sites. But it can only be seen from afar. Now, with 3D printing + cultural relics archaeological